Uncategorized
The Importance of Innovation in Business
On by Ramsey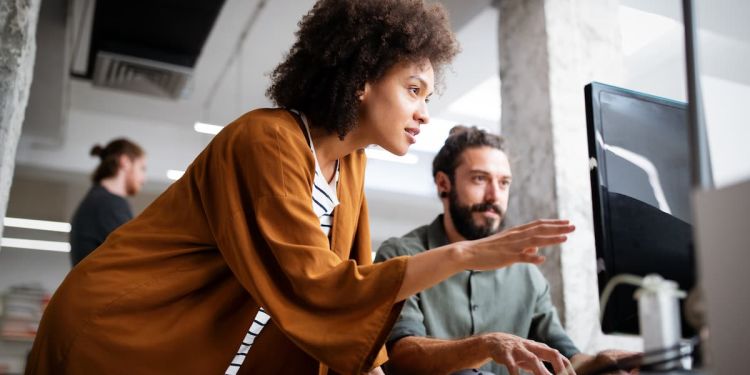 The Importance of Innovation in Business
Modern businesses grow and succeed in today's corporate climate for a myriad of different reasons. Some are known for their products, others for their services, and others still for less easily-defined factors such as strong brand loyalty or captivating ad campaigns.
If you were to look at the organizations that truly stand out from the pack today as clear leaders within their industries, however, it would be clear that they all have one common factor: they all embrace innovation.
These innovative leaders include relatively new organizations such as Uber and Amazon —which changed processes at the core of their industries in order to disrupt the status quo—as well as stalwarts like Microsoft and Apple , which have been around for decades but owe their continued success to constant reinvention and innovation. Yet, no matter its industry or current standing, an organization cannot expect to maintain a competitive edge if innovation is not part of the overall business strategy.
Read on to explore the concept of innovation in business, examine what makes innovation so critical, and learn about the steps you can take to become more innovative in your career.
What is Innovation?
Innovation , as a concept, refers to the process that an individual or organization undertakes to conceptualize brand new products, processes, and ideas, or to approach existing products, processes, and ideas in new ways.
In the world of business, there are many different types of innovation that a company might pursue. These are often tied directly to individual products, internal processes or workflows, or business models. Some companies even embrace all three in an effort to spearhead growth while adapting to the ever-changing market.
Apple is a great example of an organization that effectively embraced innovation at multiple key points in its lifetime. In the '90s, for example, the company was on the verge of bankruptcy, but managed to stave it off by partnering with Microsoft—a company long seen as the enemy. This move effectively shaped Apple's entire corporate philosophy and led to the introduction of the iMac, which was an overall turning point for the company.
However this was only the beginning for Apple, the partnership with Microsoft kick-started an era of innovative risk-taking, which led to the invention of tech products many consider staples of their lives today—including iPods, iPhones, Macbooks, Apple Watches, iPads, and more—alongside the invention of iTunes, which effectively reshaped the music industry as a whole.
The Importance of Innovation
Unforeseen challenges are inevitable in business. Innovation can help you stay ahead of the curve and grow your company in the process. Here are three reasons innovation is crucial for your business:
It allows adaptability: The recent COVID-19 pandemic disrupted business on a monumental scale. Routine operations were rendered obsolete over the course of a few months. Many businesses still sustain negative results from this world shift because they've stuck to the status quo. Innovation is often necessary for companies to adapt and overcome the challenges of change.
It fosters growth: Stagnation can be extremely detrimental to your business. Achieving organizational and economic growth through innovation is key to staying afloat in today's highly competitive world.
It separates businesses from their competition: Most industries are populated with multiple competitors offering similar products or services. Innovation can distinguish your business from others.
Who is responsible for business innovation?
It is vital that business leaders foster an environment where innovation is a natural part of company culture. "It is vital that our organisations are able to attract people with the right tech skills, but also to develop those skills internally," says PwC chairman and senior partner Kevin Ellis. "As well as recruiting people with digital skills, organisations need to focus on training their people to be adaptive, creative and critical thinkers."
The IT department
In 2015, Raconteur launched a study of workplace innovation, in collaboration with Google for Work. This study revealed that over a quarter of respondents saw IT as the main driver of innovation – a view which has barely changed since. With technology at the core of business, those with the ability to master it have the power to spark change. Not to mention that the IT department has close working relationships with every part of a business, which allows them to drive innovation and improve collaboration across the organisation.
Chief data officer
Smart use of data is key to business innovation, and CDOs are responsible for highlighting where opportunities and threats lie. Richard Merrygold, director of group data protection at Homeserve says: "CDOs need to sell the benefits. The CDO role is one of looking for efficiencies, simplifying needs, demonstrating cost-benefits, and encouraging businesses to be open and transparent."
Through their CDOs companies are becoming empowered, and the data they work with is fuelling their business innovation, where information is corralled, analytics are powerful and data use is nimble.
Chief transformation officer
The term chief transformation officer has a wide meaning: some CTOs see themselves as visionaries, while others are essentially project managers for an overhaul of an organisation's processes, often through technological change.
Either way, a successful CTO could be exactly the person to take up responsibility for driving business innovation. "We're all living through intense change, the pace of which is only accelerating," says Jason Dormieux, global chief transformation officer at media agency Wavemaker. "Regardless of title, all companies need people whose obsession is around what products and services they can build in order to help their customers take advantage of the opportunities that this disruption brings."
Expert advice: how to begin business innovation
Don't fixate on distant goals
"A solid strategy must avoid all-encompassing initiatives without careful understanding and planning. Instead, taking on board 'quick wins' will help to bring a clear impact on operations and obvious benefits. This can be done by running multiple small projects in parallel to ensure the best ideas are progressed rapidly and the bad ones fail early."
Don't neglect design
"An increasing number of fast-growth startups are founded by designers. The design course on Stanford University's MBA is one of the most popular and it's increasingly understood as a powerful strategic tool. That said, many businesses still don't realise this and not only neglect to create a leadership role around design, but also fail to invest in growing design capabilities more broadly in the business. Done properly this will force a company to entirely rethink how it brings new products and services to market as well as how it runs and organises itself."
Be wary of rivalry between change leaders
"Herd instinct driven by the kind of digital disruption that is ubiquitous in today's global economy can lead to confused, 'me too' efforts by businesses to transform. Nothing is more symptomatic of this failing than the bewildering cast of characters that variously present themselves as digital leaders – chief information, marketing, digital, data, customer, technology and digital transformation officers to name but a few. According to research by Digital McKinsey, a third of company executives do not know which leader is responsible for digital and technology functions within their business. In most cases these are either people who have successfully 'made a play' for the digital piece or they are brought in to spread some digital pixie dust across some previous perceived success."
Source:
https://www.northeastern.edu/graduate/blog/importance-of-innovation/
https://online.hbs.edu/blog/post/importance-of-innovation-in-business
https://www.raconteur.net/business-strategy/business-innovation-guide/
You may also like
Calendar
February 2023
M
T
W
T
F
S
S
« Jan
1
2
3
4
5
6
7
8
9
10
11
12
13
14
15
16
17
18
19
20
21
22
23
24
25
26
27
28